What is a feature staircase and how can they elevate your space?
Share this content on social media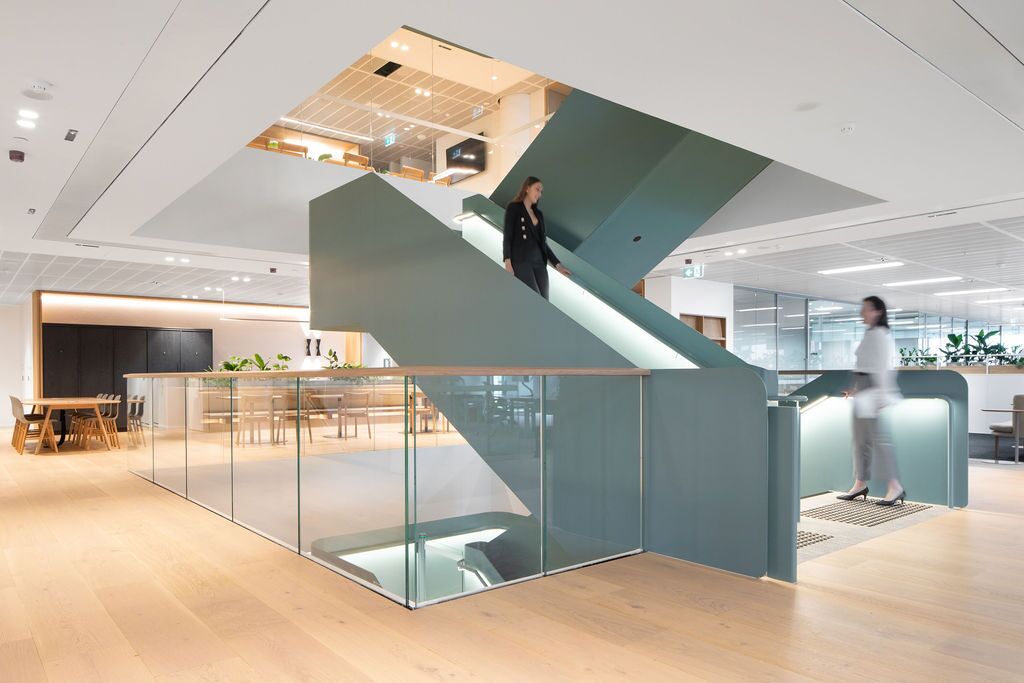 Unique and inspiring design is the key to elevating any space. Whether it is a commercial building, a residence, a retail space or a hotel, the way to people's hearts will always be through that wow-factor and breathtaking architectural design.
Architects and interior designers everywhere are using staircases as a way to inject awe-inspiring design into a space. So if you're wanting to create a statement in your new space, and you need a staircase, then a feature staircase is one sure way to do it.
What are feature stairs?
A staircase can do so much beyond simply bridging the gap between levels. They have the ability to become functional art, setting the tone of an entire space.
A feature staircase can stand out, drawing all eyes to their magnificence, or they can blend in, subtly boasting their intelligent design from their rightful place. Well crafted feature stairs can also guide a visitor through a space, encouraging them to explore and discover what is beyond their current view. Whether you want to create a grand foyer in a hotel, residential tower or public building or simply create a central artery in a commercial office a feature staircase is the perfect element to do it.
Feature stair types
There are many different approaches that you could possibly take when creating a brilliant feature staircase. Active Metal can design, fabricate and install some of the most impressive staircases in the world including (but not limited to):
Features
Not all staircases were created equal, that's for sure. Effective feature stair design requires both sides of the brain to be activated. They combine function and logic with creativity and innate beauty to become the most show-stopping feature in any space. Regardless of the context, feature stairs usually include:
a combination of materials.

voids, flights and landings complimented by unique and decorative

balustrades

and handrails.

designs that are impressive as standalone pieces, but also compliment the design of the space.
Materials
The key to the success of any feature staircase is the material selection. Depending on the requirements of the aesthetic intent and budget constraints, the materials used will mostly depend on what the designer and client wants to see.
With a steel structure always at the core, the questions that will arise include what will the balustrade be – glass, steel plate, mesh or timber joinery, or a combination of these? Will the treads be carpet, timber, marble, rubber or woven vinyl? What is the finish to the stairs – paint, polished plaster, solid surface? What is the soffit – timber, plaster board, aluminium sheet? Then of course, what is the handrail – steel, stainless steel, timber or brass?
The list of alternatives is almost endless, but the outcome of a well coordinated selection will be an awesome end result.
Location
Most feature stairs are designed specifically to make an impact when someone first enters the space. And there's a good reason for that too. With so much thought and creativity going into the immense and beautiful structure, you wouldn't want it hiding down the back. Location is always key when it comes to a feature staircase, regardless of its context, you always want to make sure that it can be enjoyed by everyone who walks in the door.
Cost
Feature stairs will add immeasurable value to your space, both practically and aesthetically. Depending on the complexity of your design, size of the space and cost of chosen materials, the cost of a feature staircase could range anywhere from $50,000 – $1,000,000, and obviously the more floors involved, the more flights and voids will also. The sky really is the limit when it comes to adding such an architectural element to your space. For an accurate quote or cost plan on your next feature staircase, reach out to the Active Metal team.
Speak to the Active Metal team today
If you have a new project that requires a piece of functional architectural brilliance as the centrepiece of the space, then get in touch with the Active Metal Team. We install feature staircases in major Australian cities such as Sydney, Melbourne, Canberra, Adelaide, Brisbane and Perth.
Not sure where to start? That's okay, we can help you through the entire process including stair design, material selection, manufacturing and installation. Get in touch today.