What are Floating Stairs and How Do They Work?
Share this content on social media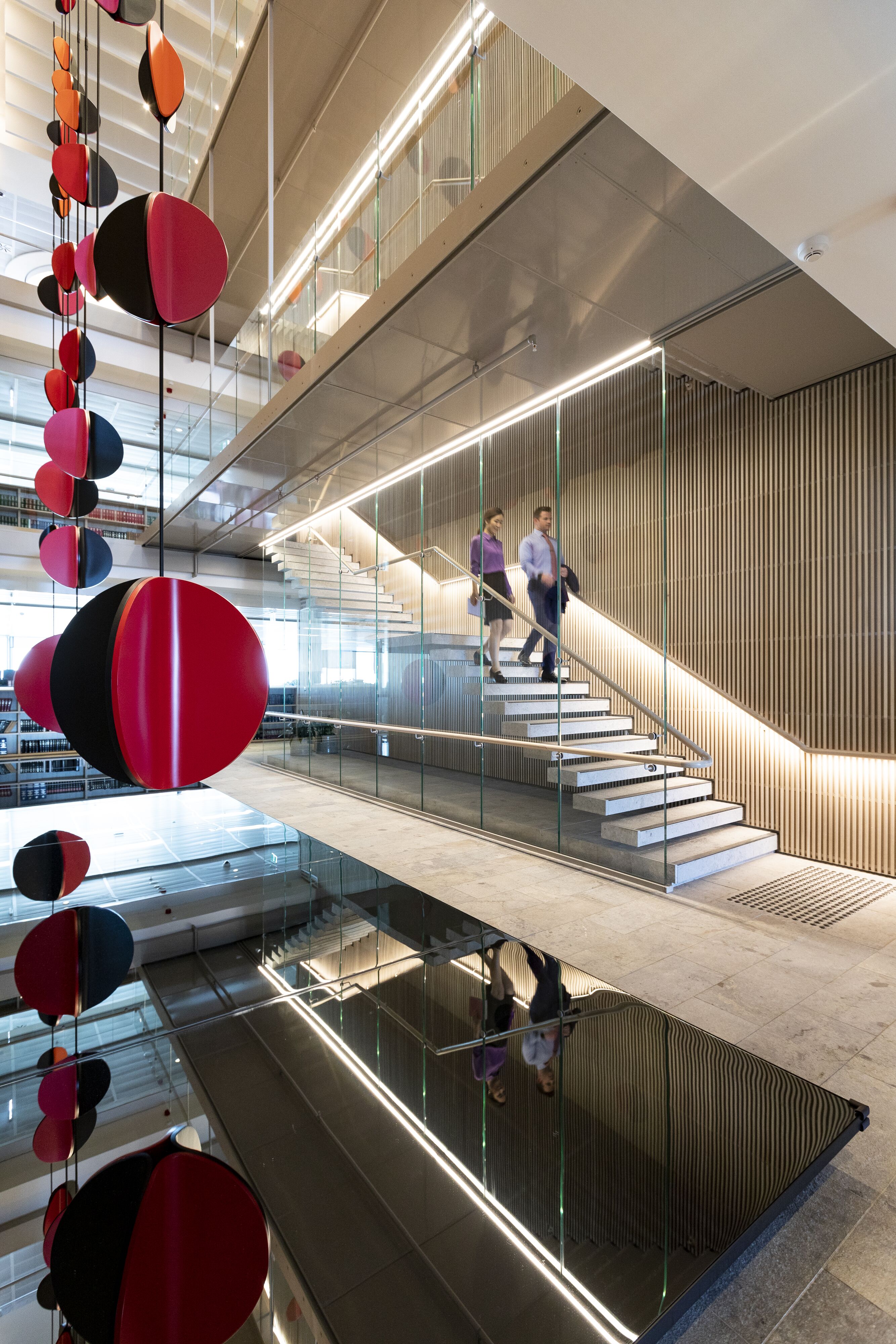 If the intent is to create a one-off monumental staircase design for your next commercial office or retail space project, floating stairs are perfect for creating a modern, minimal look. To find out everything you need to know about floating stair designs, including the materials used to construct them, the benefits of having them, the costs, and more, read on!
What are floating stairs?
Floating stairs are a design where the supporting structure is visually hidden to give the illusion that the treads are floating above the floor, in space. The floating staircase design is often a very popular choice in open spaces. But note, "floating" doesn't mean they defy gravity, it just means that you can't see the main structural support so you are going to need a structural wall to at least one side of your void!
What type of floating stair designs are there?
Floating stairs can be created wherever you have a structural wall to one side of the stair. The shape of that wall will no doubt shape the stair itself, so if it is straight, so will be the stair; if it is curved, so will be the stair. In other words, any shape is possible. But a word of caution; we will need to get the engineering right.
What materials are used to construct floating stairs?
Floating stair treads can be made of almost any material that is commonly used in staircases – mild steel and stainless steel are best but timber is also an option. Even if it is primarily steel, the seen finishes might be stone or timber or another finish. This is in evidence in the stone-clad steel floating stair in Baker Mckenzie.
What are the benefits of choosing floating stairs?
Floating stairs no doubt add a wow factor to any space, but what other benefits do they provide? Many! Floating stair designs offer:
Additional space below staircase for storage

Uniqueness

More open space

More light into the room
How much does it cost to install floating stairs?
A lot of factors will contribute to the cost of installing floating stairs. The price will depend on high the stairs go, what materials are used, and feature customisation. Speak to our team at Active Metal for a more accurate estimate of the cost of your staircase design.
Where does Active Metal offer its stair design construction services?
Active Metal offers its services all over Australia, in Sydney, Melbourne, Brisbane, Canberra, Perth, and Adelaide, to provide staircases for any commercial space. No matter how many staircases, on what floor, or which design you're after, our specialists are experienced in finding the ideal solutions for your needs. We design, engineer, and construct your customised staircases in-house, so you can have confidence that our quality, durability, and safety are next to none. Not only do we offer our staircases designs, but we also offer a range of services: project management, estimation, site measurement and surveying, drafting and design, fabrication, and finishing.
Why choose Active Metal as your floating stairs designer and builder?
Active Metal has been operating for over 35 years, offering customers all over Australia, high-quality, beautiful staircases, balustrades, and handrails. Combining our years of hands-on experience and new generation technologies, we are proud to provide unique stair solutions that will complement and transform any space.
Get in touch with Active Metal for floating stairs
If you're considering choosing floating stairs for your commercial space, reach out to the stair experts at Active Metal to learn more about what we have to offer. We can work with you to create your dream office, warehouse, or retail space with the perfect set of stairs. We can work with you through the entire process, including design, material selection, construction, and installation.