Which stair style is best for your workspace design?
Share this content on social media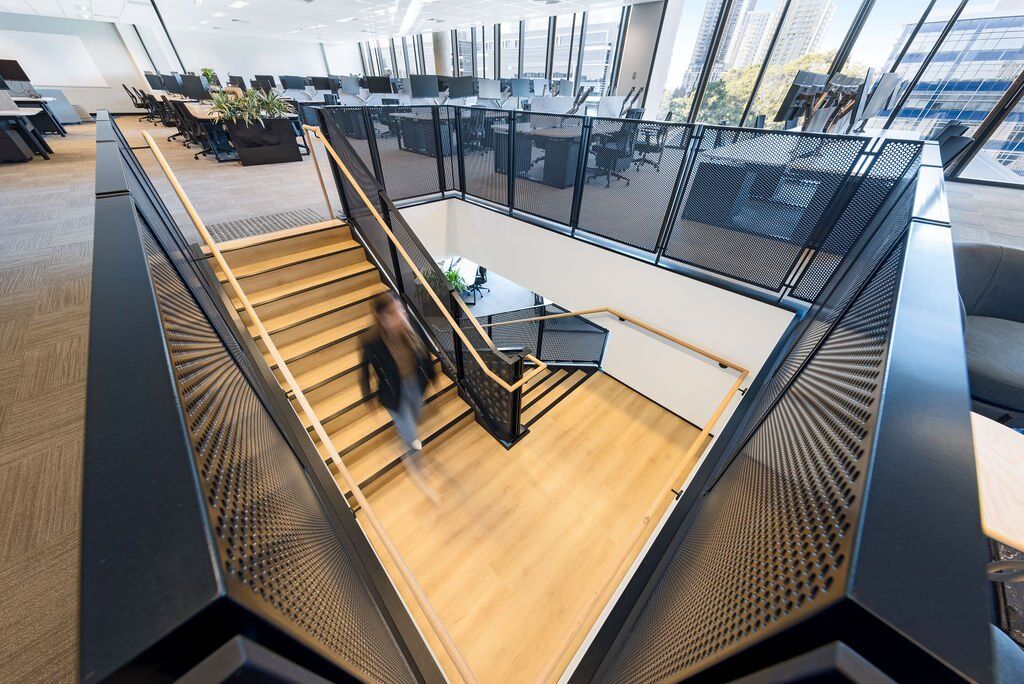 So you're looking to create a staircase in a heritage warehouse conversion or to build a new inter-tenancy staircase for a multi-storey office building. You want to make sure you get it just right. Should you opt for a straight flight staircase or a curved design? Should it be a switch-back or a spiral? While there are plenty of options to choose from, the one that will suit your space best will require some planning ahead. Here's a brief rundown that might help you decide which is the best stair style for your commercial site.
What you need to consider
Space
Before deciding on what stair style you want to build, you should be mindful of the available workspace. How much floor space is the client wishing to sacrifice? Do they want to create a void space? Your options greatly depend on how tight you are for space for the intended staircase design vs general office workspace. If you're tight on space, you could look into a viable option like spiral stairs or a switchback staircase option, or maybe a straight flight will work best.
Budget
Set a realistic budget early. Get feedback and cost plans from an experienced stair designer on the shape, the intended materials and finishes. This will save a lot of time and narrow down the selection list quickly and ensure that expectations are managed.
Safety
Safety is often taken as a given due to the fact that most commercial stairs are designed to comply with AS1428 and the NCC. However, will the stair really be designed with the safety and user experience as of paramount importance? Consider the tread and riser combination, the type of balustrade and handrail, the nosings and tactiles. These are all of great importance in designing not just a compliant stair, but a safe stair.
Regulations
You should also make note of what building regulations may impact your staircase design when it comes to the going and riser design and the gradient of the stair. A few of the relevant regulatory standards for commercial staircases include:
AS 1428.1:2009 Design for access and mobility, Part 1

AS/NZS 1428.4.1:2009 Design for access and mobility

AS 1288-2006 Glass in buildings

AS/NZS 1170.1:2002 Structural design actions
What are the types of stairs available?
Straight flight
This is the simplest staircase design you could choose, where convenience and cost-effectiveness is concerned. These stairs usually require very little in the way of a support structure.
Switchback stairs
This provides a similar design aesthetics to a straight staircase while utilising limited space. Its mid landing platform makes it ideal if you want a staircase set up on a wall with a tight corner.
As opposed to one long staircase, these stairs involve shorter flights and are ideal for an internal fit-out plan.
Further variations may be achieved by introducing post supports on the mid landing or using a cantilevered version.
Right angle stairs
Due to its 90 degree turn and landing, these stairs mostly require additional support. Right angle stairs, also known as L-shaped stairs, are suited for corner locations and are very space-efficient though not so visually appealing
Straight flight with mid landing
This is a variation of the straight flight staircase which includes a mid landing platform. This is typically suited for a setting where a longer/higher reach is required and the mid landing breaks the number of treads up so the maximum of 18 is not exceeded.
Curved staircase
This type of staircase design works well for space where you want to add style to the workspace design. These are usually more challenging to build but add an undeniably stylish visual touch and where the shape may assist with the overall layout plan.
A more compact version of these curved staircases is spiral stairs. A true spiral is a self-supporting helix without a centre post and is both space-efficient and undeniably attractive.
Talk to the experts
Still undecided? Talk to the experts at Active Metal. We specialise in all stair styles for your workplace, ranging from curved staircases to glass designs. Our team can help you transform your space and bring your dream stair design to life. Call us on 1300 685 000 or contact us for expert assistance and advice for your staircase design project.