5 things to consider before building a staircase
Share this content on social media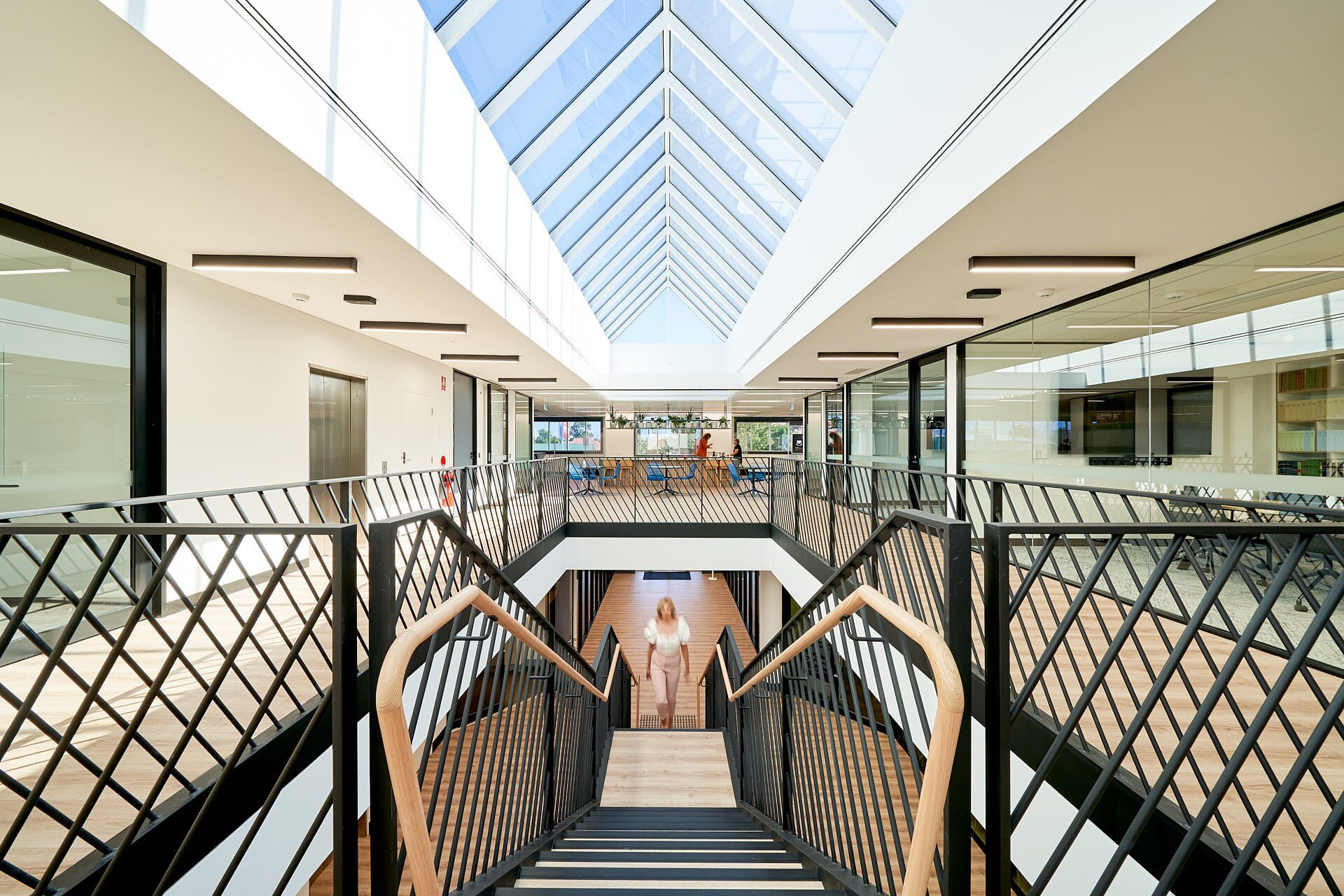 Building a staircase not only serves a functional purpose but also enhances the overall aesthetics of a workspace. While there are a number of staircase designs to choose from, a few important considerations should be made before deciding on a staircase design for your commercial space.
Here are 5 things to note before building a staircase in your workplace.
Budget
Your budget is the most crucial part of the entire process. Determine your budget early in the process and this will likely drive the look and style of your staircase, and inform the material selection.
What's the space you have to work around?
It's important to understand the space that's available. Who is using the zone? Do you want to create an atrium? Is there a building feature that you need to work around? What is the best shape to do this? You should also pay attention to the headroom and circulation space along with accessibility when deciding on a staircase design.
What are the safety standards?
Safety should be of prime importance when designing and building a new stair, but it doesn't mean the stair should be boring. How can you use the balustrade design to enhance the appearance? What are your options with handrails and stair nosings?
Style of stairs
The style of stairs can add a whole new dimension to the look and feel of a commercial workspace. Today, there are many styles available ranging from the simple straight staircase to spiral stairs. Each offers its own pros and cons. For instance, a straight staircase would be the easiest design choice to go for, but it will also be the staircase design that will take up the most linear space. A spiral staircase, on the other hand, adds more visual appeal while using less linear space.
Type of materials you should use
The defining factor of your overall design lies in the material used for the staircase. Today, you'll see engineers utilise a mix of timber, steel and glass in many staircases. The areas to consider are the balustrade, handrails, the soffit and the tread linings. In terms of maintenance and looks, timber treads are very popular and complement a lot of materials. For floating stairs or any stair design, a combination of any of these materials might be used.
Tread materials like woven or plank vinyl can be durable, easy to clean and may offer a contemporary look. Carpets provide a warm, quiet feeling, though their wear and tear may be higher.
Therefore, what choice of material you choose will depend on the style of the staircase and the theme of the workplace design.
Building regulations
Certain building regulations may affect your staircase design with regard to the height, depth and pitch of the stairs. In Australia, the maximum number of risers between landings is 18 and most features of a staircase are governed by some regulation. Other regulatory standards that may be relevant include:
AS 1428.1:2009 Design for access and mobility, Part 1

AS/NZS 1428.4.1:2009 Design for access and mobility

AS 1288-2006 Glass in buildings

AS/NZS 1170.1:2002 Structural design actions
Get in touch
Need help with your staircase project? Here at Active Metal, we've been providing staircases across workplaces in Australia for years. Our dedicated team can help you bring your staircase design project to life. Call us on 1300 685 000 or reach us via our contact page today.