Stair Inspiration : Heatherwick's Vessel – Celebrating Innovation In Architecture
Share this content on social media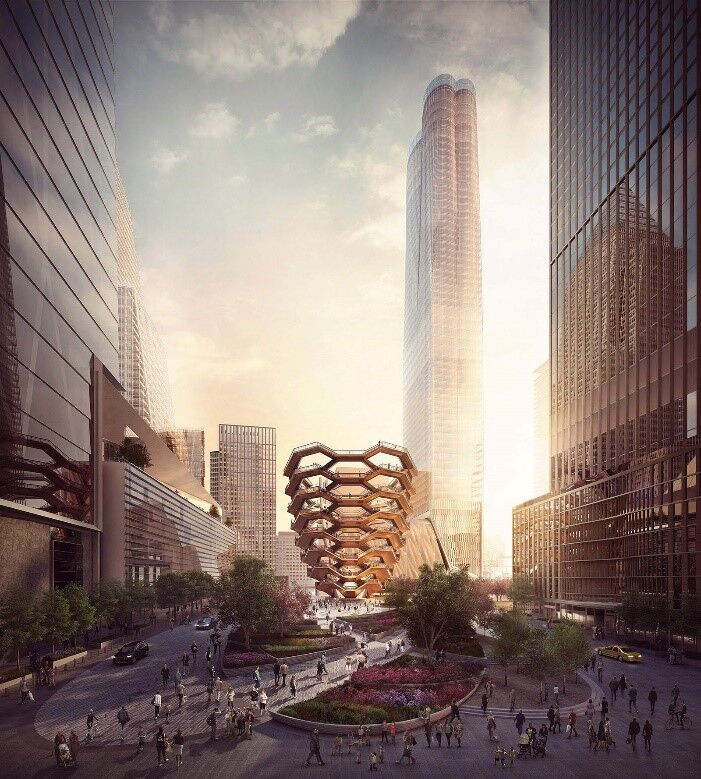 Artists impression of the completed Vessel structure (Source: Heatherwick Website)
At the centre of New York city's Hudson Yards development lies an impressive honey-comb like structure known as Vessel. Designed by London-based design practice Heatherwick Studio and due for completion in late 2018, the structure is an architectural work of art that has been referred to by CNN and Fortune as "Manhattan's answer to the Eiffel Tower".
Construction began in early 2017, and it topped out in December 2017. Even in its current form, it is a striking and visually engaging work that is unlike anything else seen before. When it is opened to the public, it will consist of 154 interconnecting flights of stairs with around 2,500 steps and 80 landings sitting at the centre of a beautiful public garden. We can't wait to see it in its completed form, but in the meantime, we thought we would look at the history of the design and how things are progressing.
Heatherwick Design Studio
Founded by Thomas Heatherwick in the early 1990's, London based Heatherwick Studio is known for pushing boundaries and embracing a multi-disciplinary approach to design. The team is comprised of more than 180 individuals, all with a unique set of skills in design disciplines including engineering, urban planning, architecture, furniture, sculpture and product design.
Heatherwick specialise in large scale projects, particularly those for public spaces in some of the worlds largest cities. Their installations unite communities and delight visitors, with a large emphasis placed on practicality and positive social impact. Upon completion, 'Vessel' will do all these things. It is expected to be the centrepiece of the ambitious Hudson Yards private real estate development, and it will serve as a landmark that will define the neighbourhood and attract visitors from all over the world.

(Source: Heatherwick Website)
Inspiration for Vessel
Stairs have always been of interest to Heatherwick, and he looks back fondly on his student days when he noticed a set of wooden stairs that had been discarded at a nearby building site. This spurred his imagination and interest, leading him to see stairs not just for their utility value but also their use as furniture. Children and adults alike can play, dance, climb and exercise to their hearts content – and when it's time for a break you can simply plonk yourself down and have a rest. When offered the chance to create the new structure for Hudson Yards, Heatherwick began to contemplate whether a structure made from steps and landings would be viable and prove successful.
The main source of inspiration for Vessel comes from ancient Indian stepwells, such as the Chand Baori (see image below) in the village of Abhaneri, Rajasthan. These incredible structures feature a seemingly endless number of repeating steps, flights and landings which extend deep into the earth. In designing Vessel, Heatherwick wanted to celebrate the ingenuity and timelessness of humans. From the outset, he wanted to create something that was not just pretty look at but rather something that could be touched, felt, used and related to in a physical and emotional way.

(Source: Pixabay)
Rather than extending down into the earth, the team decided to create a vertical structure that is visually arresting and highly interactive. At a total height of 46 metres, the structure will provide visitors with an impressive view of their surroundings and become a talking point of the community. Every individual will have a different experience as they ascend almost 2,500 steps, 154 flights and stop for a breather at any of the 80 platforms surrounding the perimeter. The steps can withstand foot traffic of up to 1000 people at a time, and Heatherwick expects each person to create their own "personal rhythm" as they climb up and down the staircase. Of course, there will be plenty of room for impromptu conversation and shared experiences with other participants along the way. Upon reaching the top, participants will be greeted with impressive views of the Hudson River and west Manhattan.

(Source: Heatherwick Website)
Vessel presents an entirely new and different way to engage with New York and the new Hudson Yards area, as well as with other people. The vertical structure is approximately 50 feet in diameter at its hexagonal base, before widening to 150 feet at the top. The reason behind this is to maximize the available space on the ground, whilst also offering 80 opportunities for small-scale human interaction on the platforms. Vessel is essentially a small part of the entire square, not a separate piece. The structure has the potential to drastically improve community engagement and social interactions in the area, and it's likely to become one of the most popular meeting places in NYC.
The geometric structure of Vessel might be likened to honeycomb by one person, whilst another might see a climbing frame or something else entirely. It is up to each individual to form their own opinion of the work, but one thing is for certain: it's far from generic. In todays world many of our cities look much the same, making it more important than ever to try and develop a sense of individuality through innovative new public spaces and installations.
Materials, Transport and Construction – Cimolai
Vessel is comprised of a structural steel frame and a variety of materials, all designed to fit seamlessly into the upscale precinct. Heatherwick have gone to great lengths to procure high-quality pre-fabricated steel pieces from Italy; along with paving, balustrades, cladding and lighting from leading suppliers. Manhattan was once home to a number of garment factories, and the painted steel frame exterior of Vessel pays tribute to this industrial past. The reflective polished copper-coloured cladding contrasts beautifully against the glitz and glamour of one of NYC's most exciting new precincts, giving the structure a natural appeal that is inviting to visitors.
Cimolai S.p.A. was established in 1949, and they are one of Europe's leading contractors and steel manufacturers. They have a reputation for professionalism, innovation and reliability and have worked on large scale projects including stadiums, bridges and aircraft shelters.
In 2011, Cimolai opened a cutting edge 46,700 m2 plant in Monfalcone, Italy and this is where fabrication of the 75 pieces of structural steel took place. The steel was then shipped to New York in six separate shipments, with a total travel time of 15 days per shipment, and all assembly took place on site at Hudson Yards. As specialists in the design, supply and erection of complex steel structures, there is no doubt that Cimolai were the right people for the job. Looking at the fabricator and assembly photos below, it is clear that despite the large scale of this project the team are well organised and pay close attention to detail.

(Source: archdaily)

(Source: archdaily)

(source: archdaily)

(source: archdaily)

(Source: Heatherwick Website)

(Source: Cimolai Website)
Looking forward

(Source: Rhododendrites/Wikipedia, CC BY-SA 4.0)
Construction of Vessel is progressing well, and it is due to open to the public in early 2019. Original estimates had the project sitting at a cost of around $75M, but this has now blown out to around $150-$200M due to complexities relating to the manufacturing of the steel pieces.
It has certainly been a polarising project, with New Yorkers expressing a wide array of opinions ranging from delight through to concern, particularly in relation to safety and traffic management. Some have also expressed concern about disabled access, but it is important to note that there will be an elevator installed so that the space is accessible for all. The design philosophy is certainly interesting, and from the images we have seen it certainly has the potential to serve as an iconic landmark for the Hudson Yards precinct.
Whilst the structure may serve no real purpose and is essentially a 'stairway to nowhere', there is no denying that it is a technical marvel. At the very least it will provide New Yorkers and tourists with the opportunity to get out of their office/apartment and enjoy some fresh air and exercise whilst engaging with others. In a tight and bustling city like New York, residents are constantly looking for new and exciting ways to workout. Heatherwick understands this only too well, stating that "New Yorkers have a fitness thing", and Vessel will tie in with this perfectly as it offers a mile of pathway extending above the public plaza.
With careful planning and management, the Hudson Yards public square could become one of the most vibrant public spaces in the world. The world is falling in love with stairs all over again, and we're excited to see how Vessel is received upon completion.